YOU SET THE TONE
ST.TROPEZ
Flawless tan for every occasion
Every minute a St.Tropez tan is performed worldwide. A St.Tropez product is even sold every 15 seconds. St.Tropez is proud to be the world's leading tanning brand. Professionals, celebrities and beauty editors alike love it!
St.Tropez has even managed to attract a beauty icon: supermodel and entrepreneur Ashley Graham . With her positive charisma, she now represents the brand in the campaign: YOU SET THE TONE. This should encourage people worldwide to feel good and appreciate their individuality with a new, radiant self-confidence.
ST.TROPEZ Tan x Ashley Graham
About ST.TROPEZ
The St.Tropez range offers the perfect product for every skin tone - from a slight sun-kissed glow to a deep, dark tan. Whether for your professional tanning treatment or as a must-have for your home, you will find the right product at St.Tropez. Trust the award-winning experts and you'll feel perfectly tanned all year round.
ST.TROPEZ SET - PURITY
Regular price

€77,00

Sale price

€61,60
The bundle includes
SELF TAN PURITY BRONZING WATER FACE MIST
SELF TAN PURITY BRONZING WATER GEL
VELVET LUXE TAN DOUBLE SIDED APPLICATOR MITT
Share
ST.TROPEZ SET - PURITY VITAMINS
Regular price

€83,00

Sale price

€66,40
The bundle includes
SELF TAN PURITY VITAMINS BRONZING FACE SERUM
SELF TAN PURITY VITAMINS BRONZING BODY MIST
VELVET LUXE TAN DOUBLE SIDED APPLICATOR MITT
Share
ST.TROPEZ SET - SELF TAN LUXE
Regular price

€90,00

Sale price

€72,00
The bundle includes
SELF TAN LUXE TAN TONIC DROPS
CLASSIC BRONZING MOUSSE BERRY SORBET
VELVET LUXE TAN DOUBLE SIDED APPLICATOR MITT
Share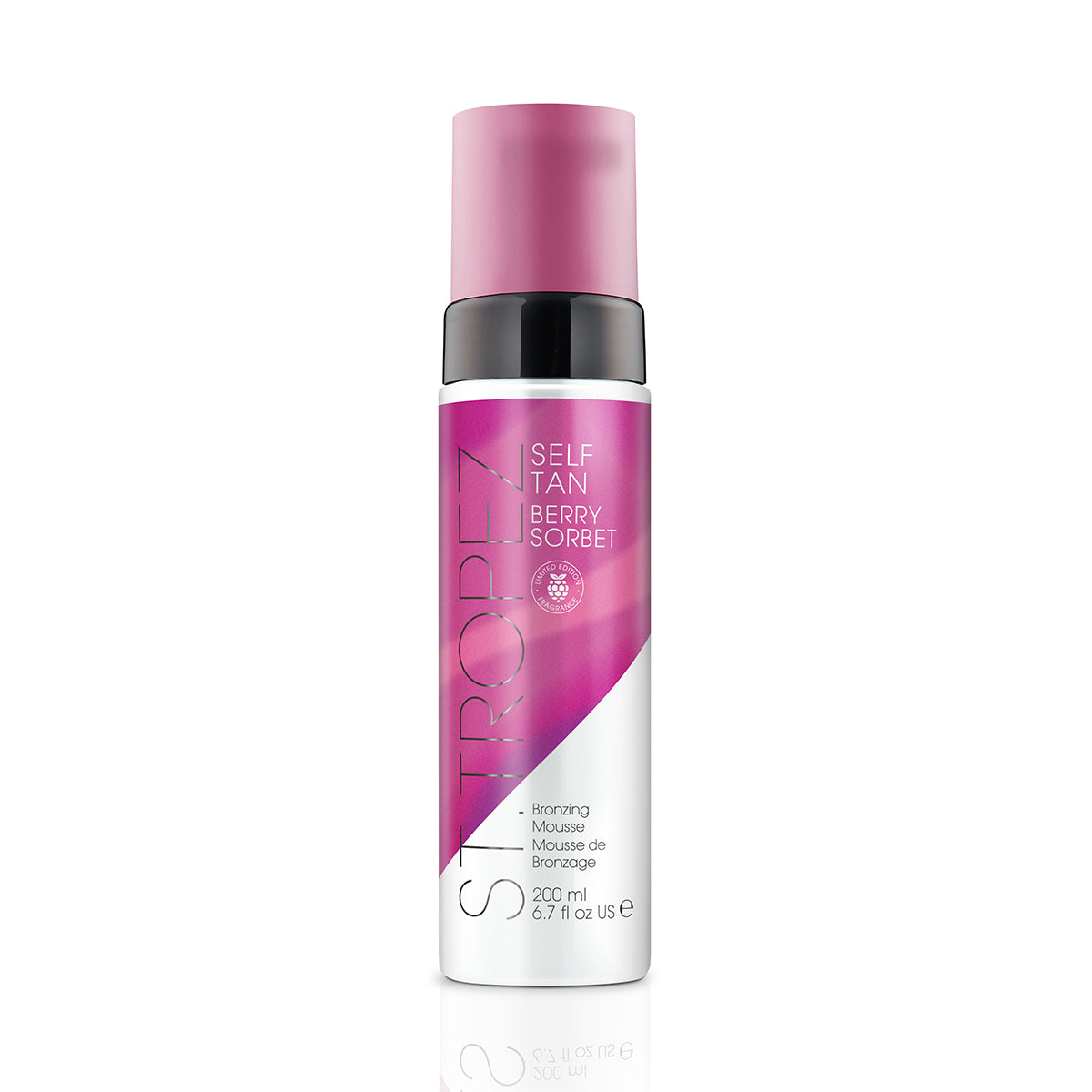 NEW ST.TROPEZ Luxe Face & Body Duo
Based on the successful and strictly limited Ultimate Glow Kit, designed by brand ambassador Ashley Graham, ST.TROPEZ is now permanently including the LUXE WHIPPERED CRÈME MOUSSE with a new, improved formulation in the range.
In addition to this, ST.TROPEZ is presenting its brand new LUXE TAN TONIC GLOW DROPS for the face – which, thanks to high-dose tanning and care ingredients, make the skin look even more beautiful.
Created to combine professional skincare with self-tanning, the two luxury products incorporate the latest in easy-to-use tanning technology and nourishing ingredients. At the heart of the new formulation are highly effective, natural ingredients, including niacinamide, echinacea and vitamin E. They help protect the skin from harmful environmental influences, reduce redness and bring stressed skin back into balance. A special hyaluronic acid ensures an ultra-hydration effect. Thanks to its high molecular weight, it supplies the skin with moisture, while at the same time preventing moisture loss and strengthening the natural skin barrier.
Tan your skin deserves
Mousse

The best-selling product is easy to apply without leaving streaks with the Tan Applicator Mitt . The texture is quick-drying - for an even tan with extra moisturizing care.

Lotion

The caring lotions are easy to apply and dry quickly - for a streak-free finish. The Gradual Tan Lotions can be applied by hand. The Self Tan Lotions should be applied with the Tan Applicator Mitt .

Gel

The gels are streak-free, easy to apply and quick-drying. You can apply this by hand or with the Tan Applicator Mitt for a flawless finish.

Spray

The new, super-fine 360° spray technology is streak-free and easy to use. It is perfect for hard-to-reach places. Distribute the spray - if necessary - with the Tan Applicator Mitt .
Instructions for use for a flawless tan
Step 1: Exfoliate skin with ST.TROPEZ Tan Enhancing Body Polish 24 hours before application. Before the actual application, apply the Tan Enhanching Body Lotion to dry skin areas such as elbows, knees, ankles and feet.
Step 2: For best results, use the Tan Applicator Mitt and begin applying product in circular motions, starting at the ankles and working your way up. Do the same for the back section. Make sure all parts of the body have been covered before finally stroking your hands and feet lightly.
Step 3: Wait until the product is fully absorbed before dressing.
Step 4: Avoid contact with water for 4-8 hours (1-3 hours with Self Tan Express ) to allow the tan to fully develop.
Pro Tip: To prolong and maintain your tan, moisturize your skin daily with Tan Enhancing Body Lotion and Tan Enhancing Body Polish .